Despite rising house prices, the Kiwi dream of homeownership is alive and well. We want a home to call our own. A place that we can change and adapt to our needs as we see fit. When we own a home, we get a sense of being settled that is seldom felt when renting. If you're looking to buy a home, there are a few important financial matters you should consider, particularly if you're carrying debt.
How To Get The Deposit Required
The higher your deposit, the more you can borrow, or the less you'll have to pay off.
Saving for a deposit can be a challenge. If you have the financial ability to buy a home, there will be plenty of other distractions, such as a new car, new furniture and overseas holidays, that will be well within your financial reach, too. Tempting. The obvious problem is that major purchases can affect the amount you are able to borrow as they reduce the amount you have available for a deposit. Unless you're rather wealthy and can buy a home outright, you first need to qualify for a mortgage.

If you plan to buy a home, you should be careful about buying anything on credit as this debt will affect your ability to borrow. Financial institutions use a debt-to-income ratio, or DTI, when deciding how much to lend to you. If you have finance owing this will add to the payment side of the equation, increasing your debt-to-income ratio. This ratio reduces the amount you can borrow.
The same applies to any credit. Even your unused credit limit is counted as you still have the facility to increase debt. First home buyers should consider reducing their limit or get rid of their credit cards if they want to maximise the amount they can borrow to get on the property ladder: "Research by mortgage broker Mike Pero Mortgages has found a $10,000 credit card limit could reduce the home loan borrowing potential of a couple by $47,000 – even if they don't have anything on their credit card or pay it off in full every month. A $15,000 limit could drop their borrowing potential by $80,000 while a $20,000 limit could reduce it by nearly $100,000"
Think carefully before taking on any new debt, and consider paying down any debt that you have owing. Debt "cancels out" savings when it comes time to borrow for a home. If you have a student loan, this will also be counted as debt.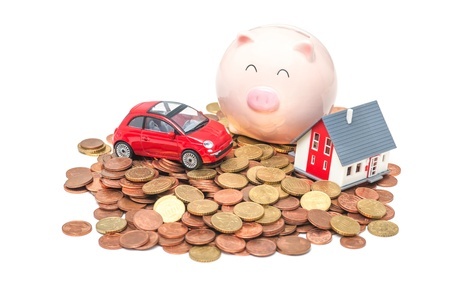 Keep in mind that the more you need to borrow, the longer your mortgage will likely take to pay off, and the more interest you will likely pay. The larger your deposit the less you'll pay in interest over the long term, all else being equal.
If you take out a loan that is outside normal lending criteria i.e. more than 80% of a property's value – this may attract higher lending charges as there is more risk for the lender. You may be charged extra for mortgage insurance or a higher interest rate than would otherwise be the case.
Have A Savings Goal

Saving for a deposit is easier if you establish a clear savings goal.
Most lenders in New Zealand require a minimum deposit for a home loan of at least 20% of the amount you are borrowing. For example, if you are buying a house worth $500,000 you'll need to save a deposit of at least $100,000.  In some cases, you only require a 10% deposit. The Welcome Home Loan Scheme for first home buyers requires a deposit of 10% so long as you meet the criteria which includes an income cap and regional house price cap. 'Ready to move in' builds such as turn key, house and land packages and recently completed new builds may also qualify for the lower deposit rate.  
Set A Budget
Once you've worked out how much you need, set a budget to achieve your goal.
A budget often means cutting down on non-essentials for a while. List all your essential expenses and try to save as much of what is left over as possible. You could also look to increase your earnings by taking on more work or changing jobs.  
Once you've figured out how much you can reasonably save each pay-day, be sure to transfer that amount to some form of savings or investment account. These accounts pay higher rates than day-to-day transaction accounts so your target will be easier to reach. Consider talking to a financial advisor first as your specific circumstances need to be taken into account. It's generally best if your savings are placed in an account that you cannot touch. At least, not easily. Some people use an account that has no online access or an account that requires two signatures in order to make a withdrawal. It can be tempting to occasionally dip into your savings, but this will not help you reach your goal for a deposit, so putting up barriers can be a big help.  
Also consider using KiwiSaver. The government will top up your savings up to $520 a year in the form of a tax credit. You can then withdraw all of your savings, except the $1000 kickstart, to buy a house. You may also qualify for up to $5000 as a subsidy. For new builds, you can get $10,000 per buyer. KiwiSaver is deducted from your wage before you touch it and you can't make a withdrawal until you are ready to buy a house.
You may also benefit from higher returns than if you use a regular savings account as you receive the government top-up and your savings can be placed in shares and other financial instruments. However, the downside is that higher returns, or the principal, are not guaranteed.
Again, talk to your financial advisor or fund manager about the best way to mitigate the downside risk. Typically, if you have a low-risk investment profile they will advise you invest in conservative funds, especially if you plan to buy a house soon. This way, there is less chance you will lose money. More aggressive growth funds can also grow your savings faster than a bank savings account, of course, but come with higher risk.  
Getting Pre-Approval
Before you look for a house, it pays to arrange a pre-approval.
A pre-approval is when the lender provides you with a written confirmation that you will be able to borrow up to a specified sum. This is known as a 'conditional offer' of finance as conditions typically apply. Standard conditions include obtaining a Registered Valuation satisfactory to the lender and a copy of a signed sale and purchase agreement. Conditions depend on your circumstances and the loan criteria determined by your lender.
The advantage of a pre-approval is that you will don't have to try and negotiate finance after you've put in an offer. You can look at houses in your price range with a high degree of confidence you can afford the asking price and speed up the purchase process.  
You can get a pre-approval from banks or other mortgage lenders. Consider using a Mortgage Broker as they will hunt out the best deal for you from a variety of lenders. Not all lenders have the same lending criteria, so whilst one lender turns you down, another may find your financial position acceptable. Mortgage Brokers are well placed to be able to compare offers.
Pay particular attention to the mortgage rate as the rates can vary significantly. Over the term of a loan small differences in the rate can make a big difference to the overall cost. Mortgage Brokers are required by law to be registered. You can check to see if your Broker is registered by going to the Financial Markets Authority website (FMA).
Once you've got your finances in order, happy hunting!
Further Reading:
Mortgage calculator – online calculator at Sorted
Where to get a mortgage – a comparison of mortgage provider options
How to save for a first home deposit  – ideas on how to save money